We are proud of our awards!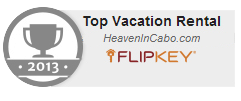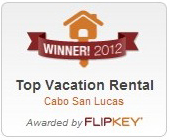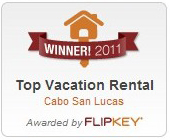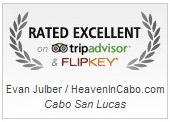 We are rated #1 in Cabo, but don't just take our word for it…
Read what other guests have to say
"Thank you so much for all of the helpful information. I have been studying the Heaven in Cabo website and am so impressed with your very professional and highly informative style of property management. In fact, I would say that so far, it is the best experience I've had in all my years of securing vacation rentals."
– Michael Gill
"We just got back and had a wonderful time. Your unit is fantastic and the resort was even better than expected. We will spread the word to all our friends and hope to visit again."
– Chris McLaughlin
"My wife and I simply cannot recommend Villa La Estancia high enough. We enjoyed a spontaneous and spectacular week in your villa, outside on the beach and in and out of Cabo San Lucas. Looking forward to a future visit!"
– Jay Devers
"Our stay in your villa was fabulous! The accommodations and resort were beautiful. I typically like to visit new places each vacation, but I could definitely see going back to Cabo and staying at your villa again. We appreciated all of your recommendations for travel info and restaurants. We added Alexander to the list. It's located right on the marina, and kind of fun to sit outside and experience the flavor of Cabo. They have great food…continental menu, and very friendly staff. I preordered discount vouchers from Los Cabos Magazine for various activities and restaurants and thought that was a great program. I would highly recommend that to others. Anything you don't use can be returned for a full refund. You can't go wrong! We really had a great trip! Thanks again for sharing with us."
– Linda W.
More FlipKey Guest Reviews of our Villas